---
our stables
The ranch was estabilished at the year of 2016 in Oldrichov v Hajich, a little village, surrounded by beautiful nature near Liberec. The new stables can held up to 16 bordered horses, and are also giving home to our own 6 horses.
Primary function of the ranch is to create a place for horses and for people around them. Our community is concentrating more on recreational type of horse riding, but outdoor arena is available for dressage and jumping trainings with all equipment needed, and with an option to pay for a trainer. Members of the horse riding club also attend in show jumping and dressage competitions of a lower level.
Farm have educational function for beginning and advanced young riders in the form of horse riding club, and educational horse riding camps during school breaks. Any child can become a member of our horse riding club, where they will learn how to ride horses, meet many new friends, and later participate in horse riding competitions. They will also gain responsibility while taking care of the animals.
Stables also offer riding lessons, preparation of people for riding licenses, and trips to nature on horseback.
Everyone is welcome on our ranch, from little children, to skilled riders.
STABLES
Our main stables for 12 horses, there are big, safe and clean stalls.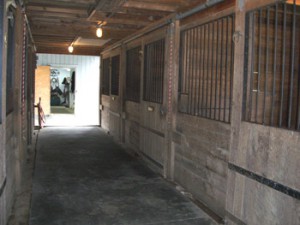 NEW STABLES
There is new set of outdoor stables for 4 horses estabilished this spring. These are big and nice stalls equipped with automatic drinkers and new feeders.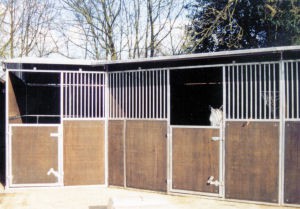 BARN
To store the hay and bedding for horses, we have big barn on our proprety next to the stables.
OUTDOOR ARENA
Our outdoor arena went thrue big reconstruction this spring. It has new fence around and new sand surface. witch proportions of 25x50 m it is perfet place of dresage and show jumping trainings, and we are planning to orfganize some small jumping competitions there. The arena is equipped with new jumping material for trainings.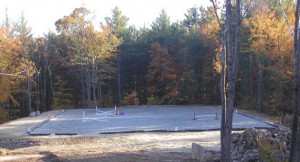 PASTURES
Around the Ranch, there are large pastures, fenced with electric and wooden fence. Most of the partures contain a shelter, and couple of trees. Every pasture has a tang with fresh water.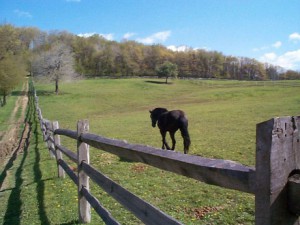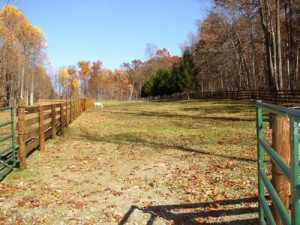 LOUNGE
When there is ugly weather, or when the members of our club want just hang aroung during the lunch time, or after the work is done, they can crole into the common room. There is a little kitchen to make a hod tea or coffe, and with microwave, there are couple of couches and table. Every child have there their own locker, to leave their staff in.
TACK ROOM
Every Horse has his saddle, bridle, halter, rope and grooming set here.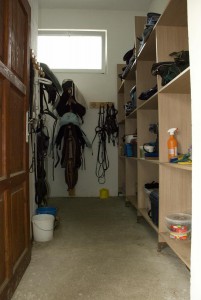 FEEDSTORAGE ROOM
THE NATURE AROUND
The ranch is surounded by beautiful nature with large meadows and long trials in the forests, just perfect for trips horseback.